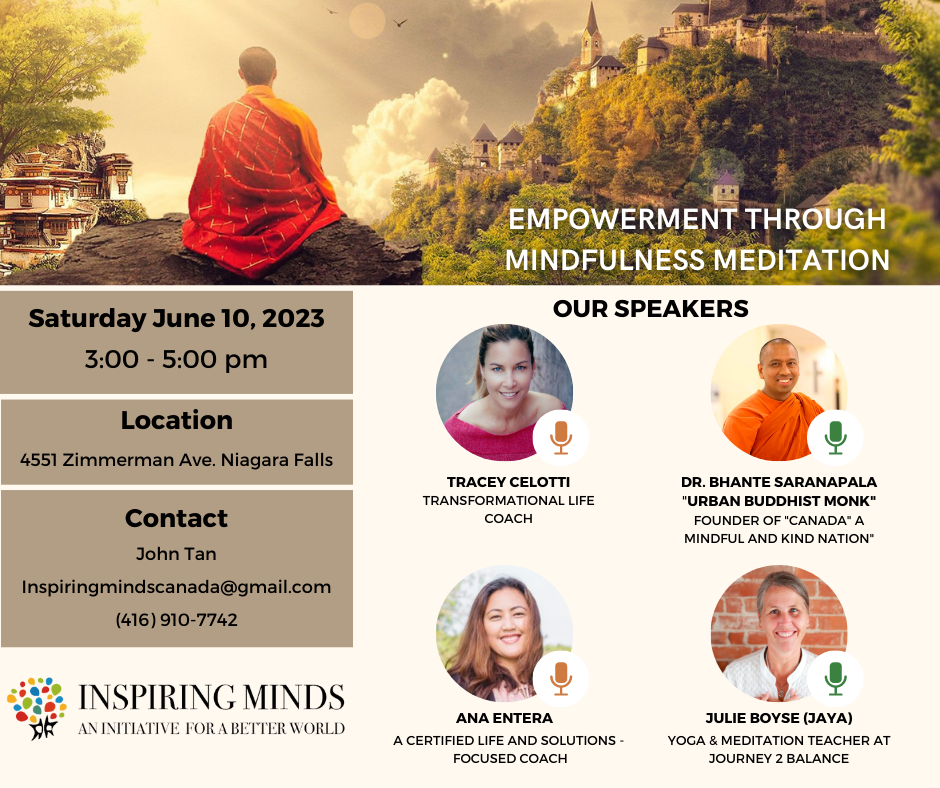 Empowerment Through Mindfulness Meditation
Looking to get empowered and learn more about Meditation and Mindfulness clarity into your life?
Join us for an Empowerment Through Mindfulness Meditation Event in Niagara Falls on Saturday, June 10th from 3 pm to 5 pm with the Urban Buddhist Monk and three other amazing experts.
This event is by donations only and all proceeds will be donated to the West End Buddhist Temple. This is an RSVP only, limited to 35 seating. Please contact Inspiringmindcanada@gmail.com to reserve a spot.
Emcee: Inspiring Minds John Tan – Kerri Kaufman from Transcending Lotus. 
Speakers:
The Urban Buddhist Monk Reverend Dr. Bhante Saranapala: The founder of "Canada A Mindful and Kind Nation"  He is a spiritual teacher, humanitarian, and an advocate for world peace. Bhante Saranapala has been a monk for over 30 years and has travelled the world to spread his message of compassion, mindfulness, and inner peace. He has worked with various organizations to promote social welfare, interfaith harmony and environmental conservation. Throughout his teachings, Bhante Saranapala encourages individuals to embrace mindfulness practices such as meditation, gratitude, and compassion to help them live more fully and to make Canada a more mindful and kind nation.
Tracey Celotti: A certified Transformational Life Coach with Brave Thinking Institute. She specializes in empowering women to overcome their challenges and achieve their goals, drawing on a combination of powerful coaching tools and techniques, a 12-step approach, and personalized support.
Ana Entera: A certified Life and Solutions-Focused Coach, Ana is passionate in helping women reach their full potential. To be the woman that they are destined to be! A lifelong mental health advocate, Ana holds a BA in Psychology from Brock University and is safeTALK certified.
Julie Boyse: Julie Boyse (Jaya) has been trained in the Sivananda lineage through Sivananda Vendanta Camp in Montreal, Canada, (2016) and SIYA International with Swami Maheshananda Saraswati in Bangalore, India (2018). She is a registered yoga teacher through the Canadian Yoga Alliance as a E-RYT Gold (over 1,000 hours taught).